To start a test, logon to the MAP testing site with your user account
Select Manage Test Sessions. Then, select All Proctors after deleting your name under Created By. This will bring up the full list of already created tests:
Search for a session by your name or grade, select it and hit the Test Now Button. At this point you have your students connect to the session via the Session Name and Session Password. Once they've signed in and you're ready to begin Confirm them by selection Confirm Now.
Students open the Application by selecting the Apps button and the NWEA app from the logon screen. They should not logon to their computers!
If you have a student who closes out of their test, or for any other reason is no longer connected, they will not be able to reconnect to the session and find their name in the list until you check them, Select Suspend from Action, select them again, and select Test Again from Action. They will continue where they left off.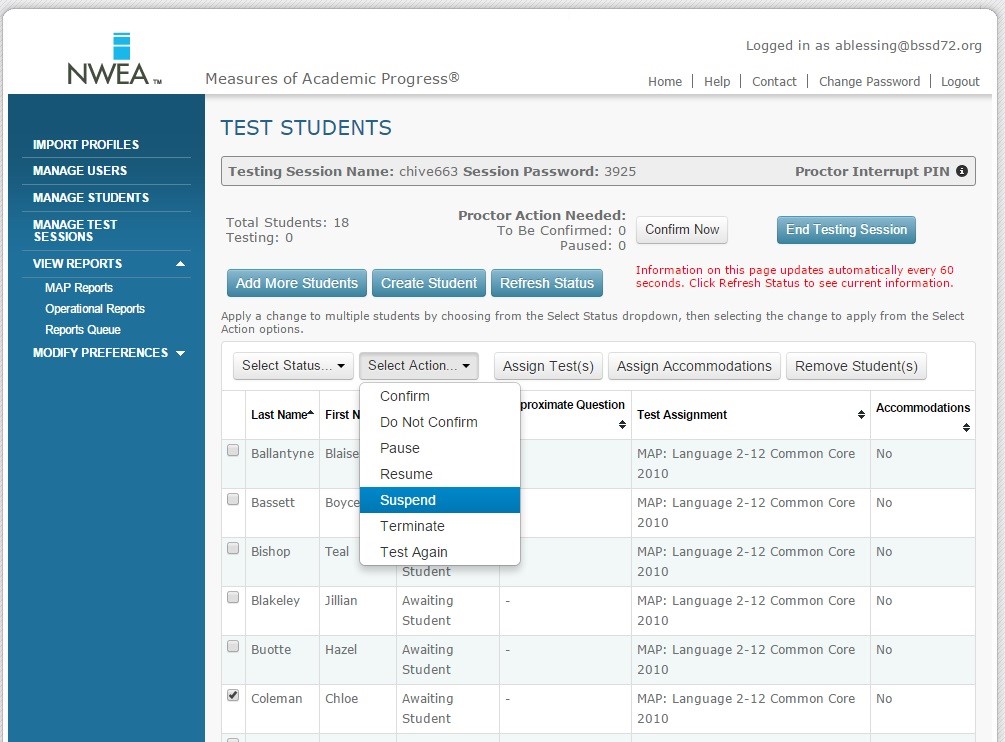 When all students have finished the test that are in class for that session (not students that will have to make it up at a later time) please select End Testing Session, and then DELETE. We can create new sessions for students that missed the testing day.
Other Troubleshooting:
If students on Chromebooks get the message that their screen resolution is incorrect, have them press: Ctrl + Shift + 0 (that's the number 0) at the logon screen. This will reset their resolution to default.